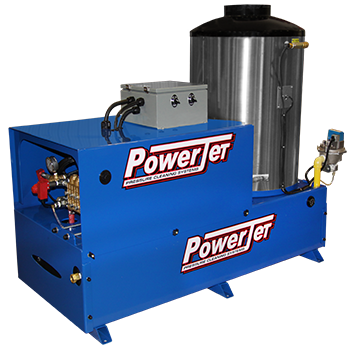 These Industrial Hot Water Electric - Natural Gas or Propane Fired units were designed to be extremely user-friendly, serviceable and efficient. The innovative features have been designed with years of knowledge and experience to save you time, money and resources when using and maintaining your machine. Check out the video below for a walkthrough of the unit's components and features.
Media Gallery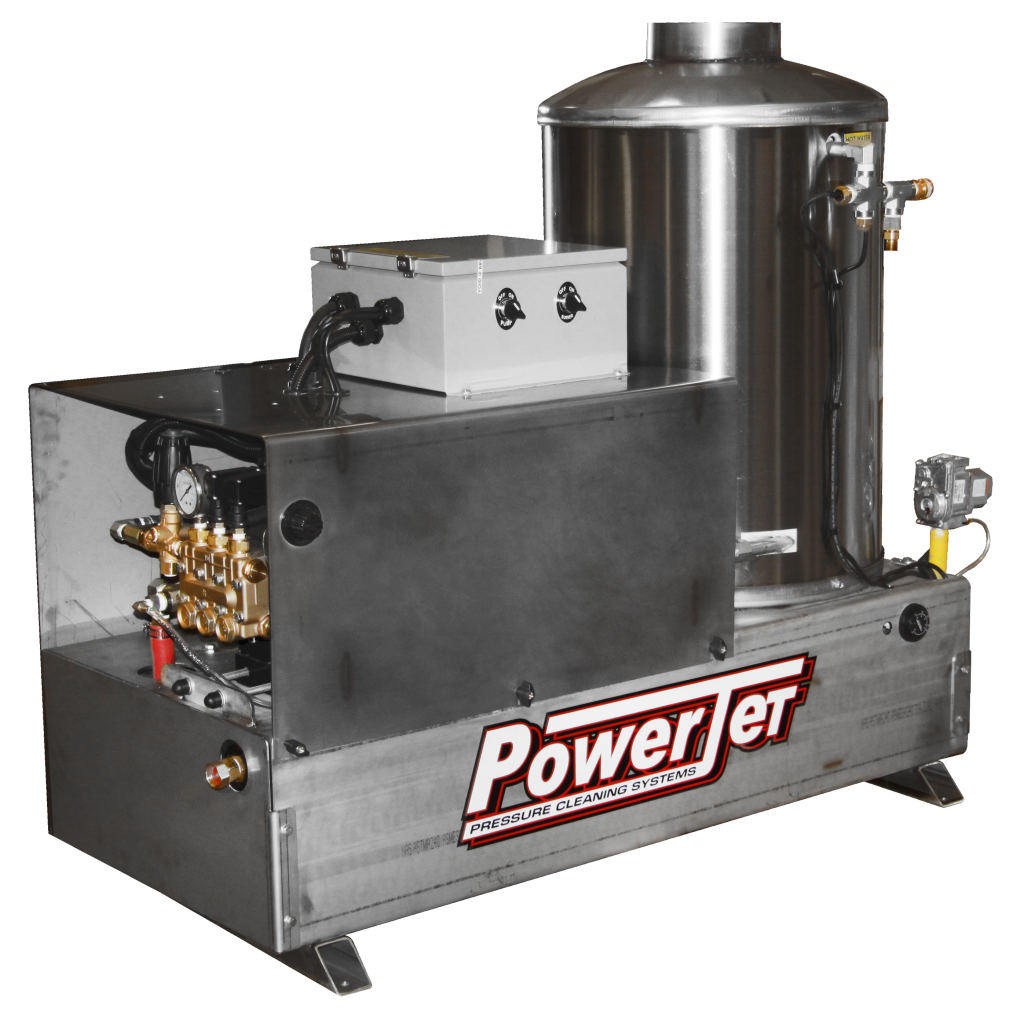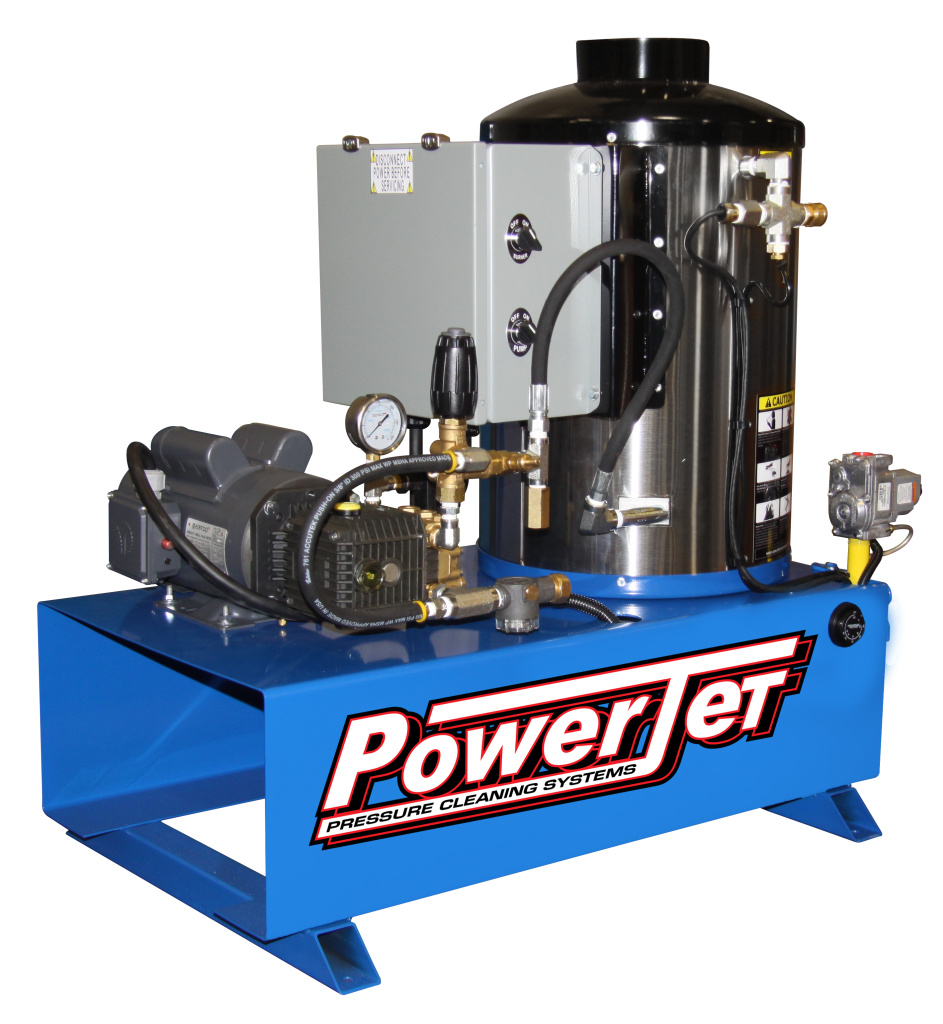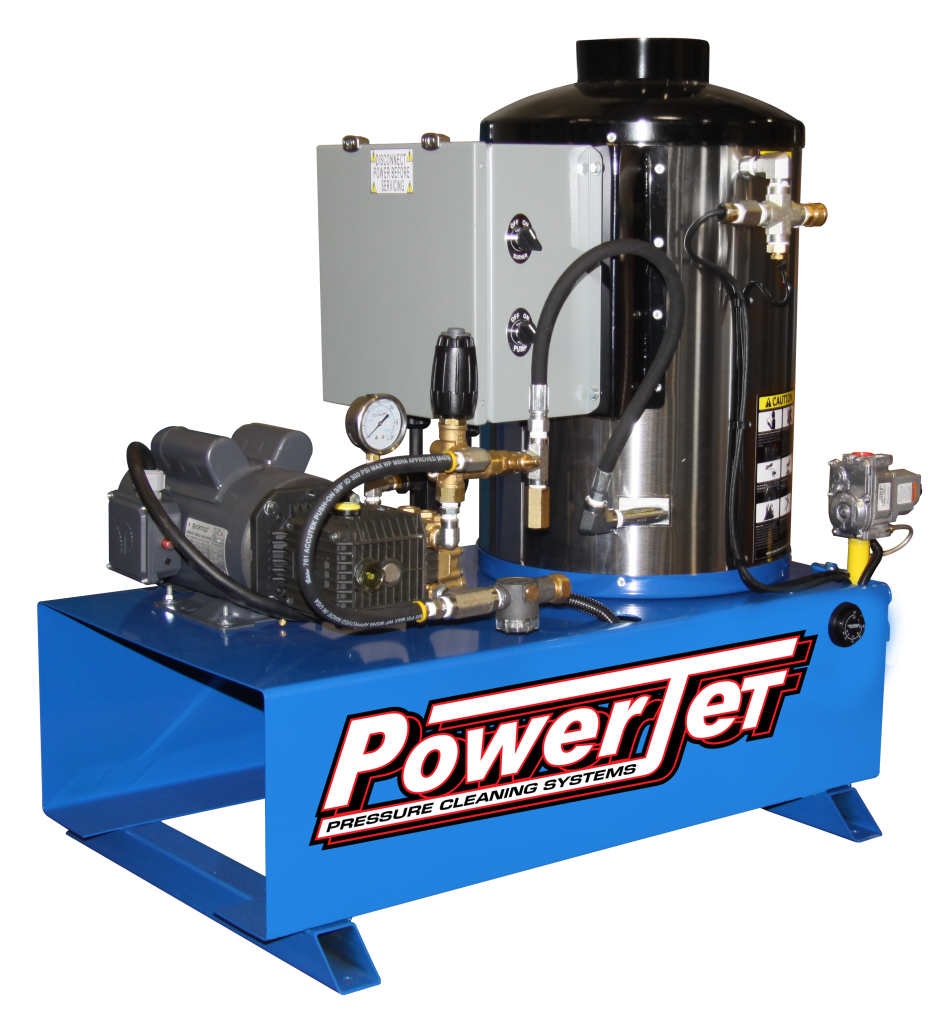 Pumps (General Pumps)
Italian-made industrial heavy-duty triplex plunger pump with oil bath crankcases, stainless valves and brass manifolds. General Pumps are the most widely used pumps in the world.
Electric Motors ( 2, 5, 7.5, 10, 15, 20 & 50 HP)
Totally enclosed fan cooled full-frame 1750 RPM electric motors. Single-phase equipped with a 1.15 service factor. 3 phase are equipped with a 1.25 service factor, both are high efficiency.
Drive Systems 
Belt Drive - Large diameter pulleys are used to reduce belt wear. Flange and Coupling Drive - Available for those who do not prefer belt drives.
Electrical Control Panel
Electrical Nema 4 water-tight control panels complete with hinged covers are utilized for easy service access. No unnecessary electronics are used when designing these units, making service and diagnostics simple. Available with standard on/off switch or optional auto start/stop timer shutdown.
Heating Coil - PLC Controlled
Elliptically wound cold coiling process of stretched reduced full body normalized ASTM A53 GRB schedule 80 or 160 pipe. The coil is structurally braced to minimize pipe wear and vibration. It is sealed with a ceramic blanket in stainless steel housing.
Optional CRN/ASME 30.1 Pressure Vessel Coded Coils
Burners
Quality North American-made natural gas or propane-fired burners and controls with adjustable thermostats are used for efficiency, dependability and serviceability. Units are equipped with quick-clean burner apparatuses. Burners jets have 6 oxygen orifice inlets to ensure maximum burn and minimize CO results.
Frame
Rugged 11 gauge and 1/4" bent one-piece plate steel frame is fully welded with a powder coat finish. Frames are equipped with 11 gauge steel shrouds with integrated belt guards for maximum serviceability. The bolt heads are welded and body bolts are drilled and tapped.
Includes
These units include gun and wand assembly, 50 feet of high-pressure hose, high-pressure chemical injection (Optional on Direct-Drive Units), 4 wash nozzles, 1 soap nozzle and a poly float tank on 4-12 GPM units.
| | | | | | | | |
| --- | --- | --- | --- | --- | --- | --- | --- |
| MODEL | GPM | PSI | BTU | DRIVE | HP | VOLTAGE | L" x W" x H" |
| PJN2015-1 | 2 | 1500 | 195,000 | DIRECT | 2 | 120V-1PH | 43 x 30 x 45 |
| PJN3524E-1 | 3.5 | 2400 | 290,000 | DIRECT | 5 | 220V-1PH | 37 x 30 x 40 |
| PJN3530E-1 | 3.5 | 3000 | 290,000 | DIRECT | 7.5 | 220V-1PH | 37 x 30 x 40 |
| PJN4002F-1 | 4 | 2000 | 390,000 | FLANGE/COUPLING | 5 | 220V-1PH | 48 x 26 x 44 |
| PJN4002-1 | 4 | 2000 | 390,000 | BELT | 5 | 220V-1PH | 48 x 26 x 44 |
| PJN4002F-3 | 4 | 2000 | 390,000 | FLANGE/COUPLING | 5 | 208/440/575 V-3PH | 48 x 26 x 44 |
| PJN4002-3 | 4 | 2000 | 390,000 | BELT | 5 | 208/440/575 V-3PH | 48 x 26 x 44 |
| PJN4003F-1 | 4 | 3000 | 390,000 | FLANGE/COUPLING | 7.5 | 220V-1PH | 48 x 26 x 44 |
| PJN4003-1 | 4 | 3000 | 390,000 | BELT | 7.5 | 220V-1PH | 48 x 26 x 44 |
| PJN4003F-3 | 4 | 3000 | 390,000 | FLANGE/COUPLING | 7.5 | 208/440/575 V-3PH | 48 x 26 x 44 |
| PJN4003-3 | 4 | 3000 | 390,000 | BELT | 7.5 | 208/440/575 V-3PH | 48 x 26 x 44 |
| PJN5003-1 | 5 | 3000 | 390,000 | BELT | 10 | 220V-1PH | 48 x 26 x 44 |
| PJN5003-3 | 5 | 3000 | 390,000 | BELT | 10 | 208/440/575V-3PH | 48 x 26 x 44 |
| PJN5003-HT-1 | 5 | 3000 | 510,000 | BELT | 10 | 220V-1PH | 61 x 31 x 51 |
| PJN5003-HT-3 | 5 | 3000 | 510,000 | BELT | 10 | 208/440/575 V-3PH | 61 x 31 x 51 |
| PJN4004F-1 | 4 | 4000 | 390,000 | FLANGE/COUPLING | 10 | 220V-1PH | 48 x 26 x 44 |
| PJN4004-3 | 4 | 4000 | 390,000 | BELT | 10 | 208/440/575 V-3PH | 48 x 26 x 44 |
| PJN8002-1 | 8 | 2000 | 720,000 | BELT | 10 | 220V-1PH | 61 x 31 x 51 |
| PJN6036-3 | 6 | 3600 | 560,000 | BELT | 15 | 208/440/575 V-3PH | 61 x 31 x 51 |
| PJN8003-3 | 8 | 3000 | 720,000 | BELT | 20 | 208/440/575 V-3PH | 61 x 31 x 51 |
| PJN8036-3 | 8 | 3600 | 720,000 | BELT | 20 | 208/440/575 V-3PH | 61 x 31 x 51 |
| PJN1030-3 | 10 | 3000 | 940,000 | BELT | 20 | 208/440/575 V-3PH | 66 x 35 x 62 |
| PJN1225-3 | 12 | 2500 | 940,000 | BELT | 20 | 208/440/575 V-3PH | 66 x 35 x 62 |
| PJN5005-3 | 5 | 5000 | 510,000 | BELT | 20 | 208/440/575 V-3PH | 66 x 35 x 62 |
| PJN4006-3 | 4 | 6000 | 390,000 | BELT | 20 | 208/440/575 V-3PH | 57 x 31 x 47 |
| PJN4007-3 | 4 | 7000 | 390,000 | BELT | 20 | 208/440/575 V-3PH | 57 x 31 x 47 |
| PJN8008-3 | 8 | 8000 | 720,000 | BELT | 50 | 208/440/575 V-3PH | 81 x 88 x 51 |
* Propane Fired Use PJP
* Optional Cat Pumps
* Optional Hose Reel